Sit right back and you'll hear a tale; a tale of a fateful trip. It started from this city port
aboard this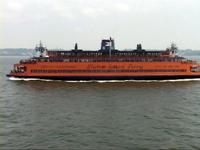 tiny ship.
My adventures this weekend took me to the "obscure" borrough of Staten Island. Although I have lived here for 12 years, before this weekend, I had never set foot on the Southernmost borough. Well, it didn't start out as the goal of the evening on Saturday night. I went to dinner at
One if By Land, Two if By Sea
with Nolan, Jess and Paul to celebrate three July birthdays, enjoy a fabulous dinner, and regale in a lovely evening with friends. Afterwards, we started on our adventure to enjoy the warm summer night on a boat ride through the harbor.
For those of you who aren't from around here, the
Staten Island Ferry
is the biggest bargain in NYC. It is a
FREE
boat ride between Manhattan and Staten Island, passing
Governors Island
,
Ellis Island
and the
Statue Of Liberty
. In the summer, most people decide to sit outside and watch the view as well as enjoy the fresh salty breezes. On the way back into Manhattan, you can stand at the front of the boat and watch the skyline get bigger and bigger.
Well, these four Manhattanites decided to take the ferry out and just ride it straight back, without getting off the boat. It is a very common practice. I have done it a couple of times. Anyway, unbeknownst to us, the boat we rode in on was going out of service which meant we had to run to get the the boat that was boarding as we were debarking. Well, the ferry schedule was not on our side, nor the side of the 40 or so people that decided to do the same thing. Alas, stuck in Staten Island for an hour. What to do? Well, we wandered. I'm sure there are lovely areas of Staten Island, but the area by the ferry is not set up for tourists.
In a nutshell, we found a bar that wasn't too scary, although rather political (Over the bar, there was a large painting of Rudy Guilliani, the police commissioner - I think, and the commissioner of the FDNY - I think, dressed in togas, on horses, spearing demons. Just inside the door, there was a petition to recall Bloomberg.), to grab a beverage amidst a post wedding party party.
The happy ending to this story is we caught the next boat and all made it home. Now I have been to all of the boroughs, just this summer!